Clearly. Concisely. Informative.
Brochures
Our brochures provide all the information you need on our heritage sites: opening times, entrance fees and special tours, and on how to contact us. Some are available in English; however, we regret to say that at present, this page of the website only exists in German.
Heidelberg Palace | Schwetzingen Palace | Ludwigsburg Residential Palace | Maulbronn Monastery | and more
Our historic monuments at a glance
Overview brochures
Famous sights, hidden delights: Discover diversity and experience history.
Brochure PDF
Mannheim Baroque Palace
At a glance | 2021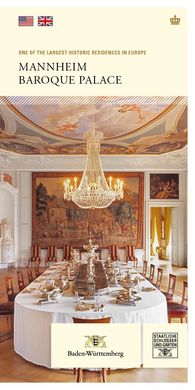 Monument brochures
One of the largest historic residences in Europe: Concise facts of the monument and information about opening times, admission and contact.
Brochure PDF